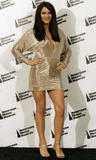 Leggy babe Katherine McPhee at the American music awards.
With legs like that expect a lot more of her here very soon.
Reminder:
This Friday sees the start of the 2007 Summer Sexy Legs Poll final, all ten finalists will be entered in to one poll and the person with the most votes after the two week voting period as ended will be crowned the "2007 Summer Sexy Legs" winner.
The winner of the SSLP final will get a weeks worth of posts dedicated to her.